The British singer Leona Lewis joins The Body Shop for a makeup collection.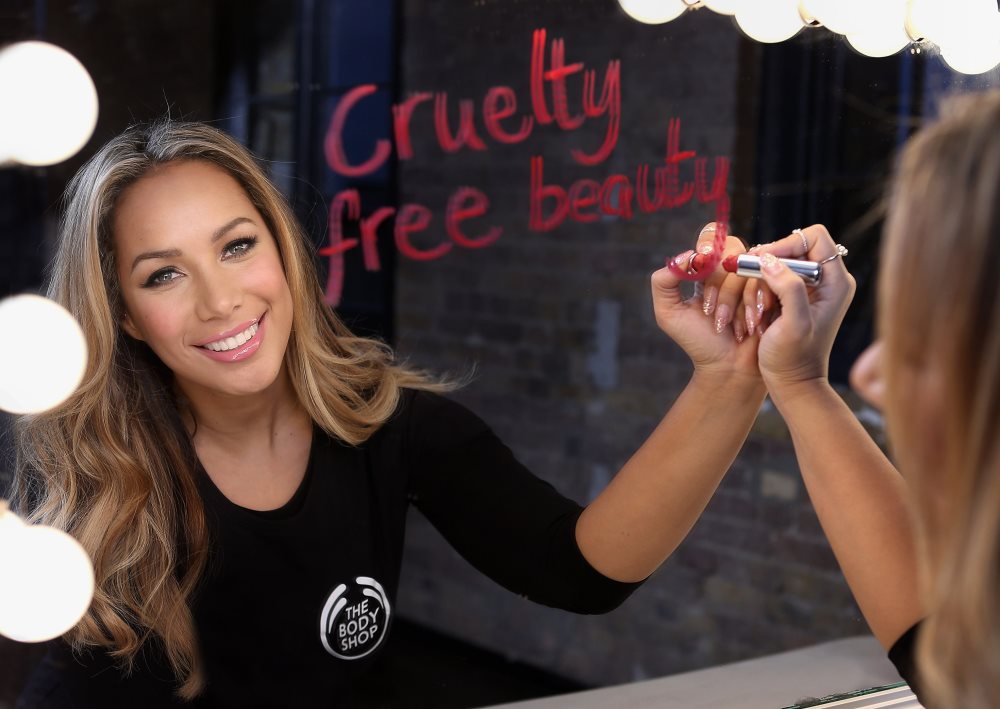 After Rihanna and her partnership with MAC COSMETICS, it was the turn of Leona Lewis to launch in cosmetics.
The British singer revealed in 2006 by the English version of the X Factor is collaborating with the ethic cosmetics brand The Body Shop, for a range of makeup, available from 26 March 2013. Named "Cruelty Free" (which means "Cruelty-Free" in reference to the commitment of the trademark against animal testing), the collection will feature bold, shiny lip gloss, shimmer palette and fragrance designed by the singer.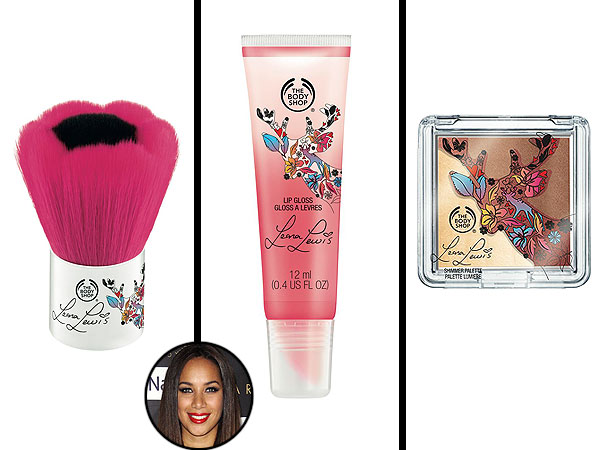 A partnership that welcomes the young woman who is a strict vegetarian and a campaigner for animals rights. "I'm passionate about beauty and I'm all about animal rights," she explains in an interview with WWD. She added, "As a result, I'm really conscious of where the products that I use come from. The Body Shop sells cruelty free, ethical products containing amazing Community Fair Trade ingredients. The collaboration is a natural fit!"
Mariah Carey & OPI partner to create eight new limited edition nail shades. These shades include four new OPI Liquid Sand lacquers featuring groundbreaking technology for a textured, matte finish infused with reflective sparkle.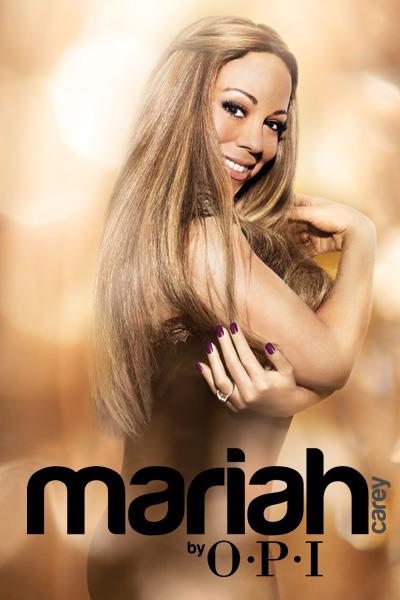 Like many celebrities before her, Mariah Carey is working this year with the brand OPI to create her own collection of nail polish.
Mariah Carey by OPI includes four Studio Shades – ranging from pink glitter to rich plum crème – and four Stage Shades – each featuring the new textured finish.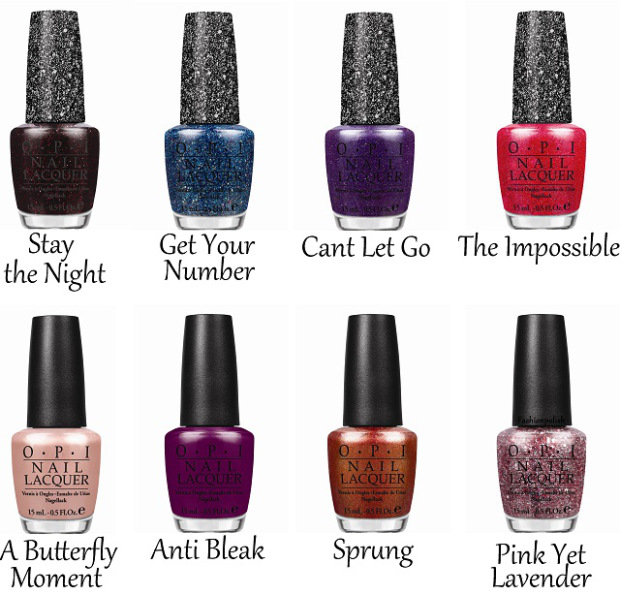 "OPI is extremely excited to work with Mariah," says Suzi Weiss-Fischmann, OPI Executive VP & Artistic Director. "She's very passionate about beauty and her nails in particular. Her music, which includes 18 Billboard No. 1 singles, served as a wonderful inspiration for glamorous, sultry, vibrant colors.
"To pay homage to her iconic status, we wanted to launch her collection with something completely new and exciting. OPI Liquid Sand nail lacquer offers a never-before-seen look with a pebbled finish that lightly shimmers with fine glitter particles. Worn without top coat, Liquid Sand lacquer gives nails a unique textured matte finish worthy of a superstar."
See Mariah Carey O.P.I nail polish collection at:
Having wowed the fashion world, Rihanna is taking on beauty with a creative partnership with MAC to launch four colour collections, branded RiRi Hearts MAC, over the course of a year.
First to hit the shelves will be 'RiRi Woo' – a Ri-working of MAC's iconic lipstick shade Ruby Woo.
This new lipstick will be sold for the first time on 4 and 5 May at his concerts in Barcleys Center in Brooklyn, where a temporary MAC shop will open.
"Riri Woo" will be followed by three other collections that include foundation,  other lipstick shades, blushes, false eyelashes, pallets and nail polishes.
'When you think of makeup the brand that pops into your mind – for something legit – is MAC,' the singer told WWD following her River Island show atLondon Fashion Week. 'Whatever colour you want, it's like, "Let's go to MAC." I've been using MAC on tour for such a long time it was a natural fit for me. I have always loved makeup, and I always said that if I do it, I want to do it with a credible brand.'
The holidays are over and you feel heavy and tired?
This is the time to do a detox cure.
Here is a detox recipe from Djibouti.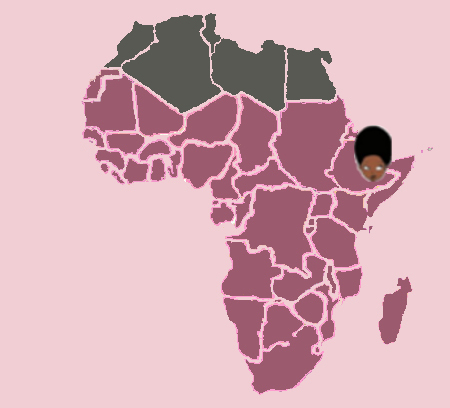 INGREDIENTS
-green tea
-fresh mint
-ginger
-lemongrass
Grate the ginger.
Brew green tea, mint, ginger and lemongrass.
Drink tea after each meal for 1 month.
Green Tea
Green tea contains Antioxidant. It  can reduce the oxidation of bad cholesterol.
Fresh Mint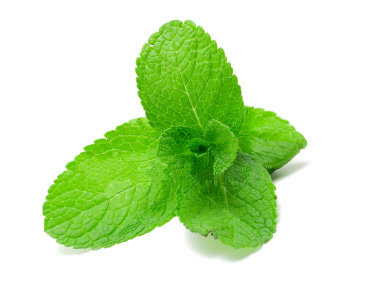 It is detoxifying, purifying the blood and restores radiance of the face skin.
Ginger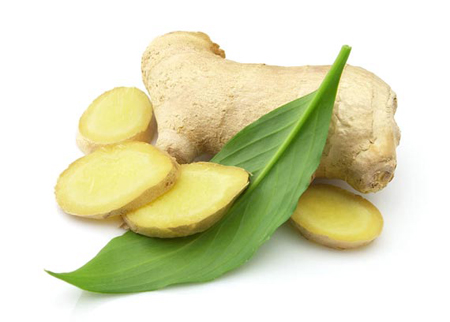 Ginger is a powerful natural antioxidant, it helps fight against digestive problems. It is also  toning, stimulating and revitalizing.
Lemongrass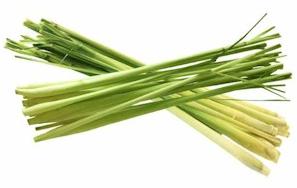 Lemongrass has toning properties and helps fight against digestive problems.
Cloud 10 Beauty is a beauty online shop.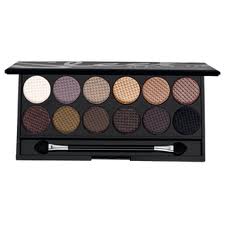 They are selling notorious brands such as Sleek Make Up (famous for its make up set and
eye shadows), Nuxe skin care, Essie and OPI nail polish.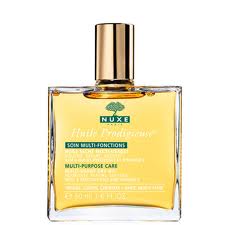 They offer free shipping for orders over 40£.
You can take advantage of an exclusive deal  on Cloud 10 Beauty website :
 Get 15% discount using the code CLOUD15OFF 15% Off Code – CLOUD15OFF
The offer expires 31st January 2013.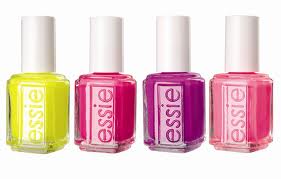 Happy shopping !
To visit their website: cloud10beauty