This post is also available in: French, Spanish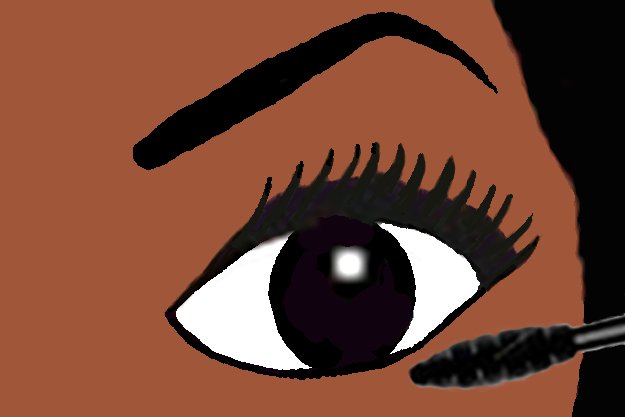 The mascara is essential to highlight the eyes and bring the final touch of makeup.
Here are some tips for choosing one:

Is there a perfect mascara?
There is no perfect mascara, because we have not  all the same kind of hair or the same implantation. Each one expects its mascara a different effect: volume, thickness, length …
The secret to having beautiful eyelashes is in the mascara cream, called the juice, which covers the lash, and in the brush. According to the amount of  juice chosen by the manufacturer, the result will be lengthening or volumizing.
The colour coming from the pigments also plays a role in the lashes volume: intense black or  electric blue are more noticeable than brown, for example. Don't be reluctant to try colorful mascara during the day, they look excellent on black women anytime.

What kind of brush should I favored?
The designers create brushes to cover lengthen, curl, comb the lashes, but not always at the same time. For each type of brush is specially made a cream (or juice).
A bristle brush separates tangled lashes, a larger one give volume,  a thin one would  lengthen. A soft bristle plastic  brush prevents the formation of packs while pin drives multiplies lashes more fragmented. Spiral cone-shaped brushes curl steepest eyelashes.
In all cases, a good brush should be easy to use even for a beginner, put the cream without sticking and have a good grip.

Which one to choose for sensitive eyes?
All mascaras are generally tested under ophthalmologist control, because the eyes are a sensitive area. If you notice any irritation or redness, it is better to change the brand of mascara and even eyeshadows.
If your eyes are sensitive avoid applying mascara too close to the base of the eyelashes. Instead, make the spikes, do not overload the product, and especially not keep the tube more than 3 months.

And waterproof?
Mascara waterproof new generation are effective. Water slides on their texture created based on natural waxes and oils, among others. Thus we no longer afraid to go out in the rain, sweat or cry.
Waterproof means more difficult to remove. You need a cleanser suitable to put off your  mascara gently and avoid damaging the eyelashes.

How long can you keep it?
An unopened tube can be kept 36 months and once opened three months. Beyond it dries and crumbles: residue can fall into the eye and irritate. It's not worth adding water in a dry mascara, it will break its formula . Avoid the brush back and forth in the tube, they return air , which dries faster.