This post is also available in: French, Spanish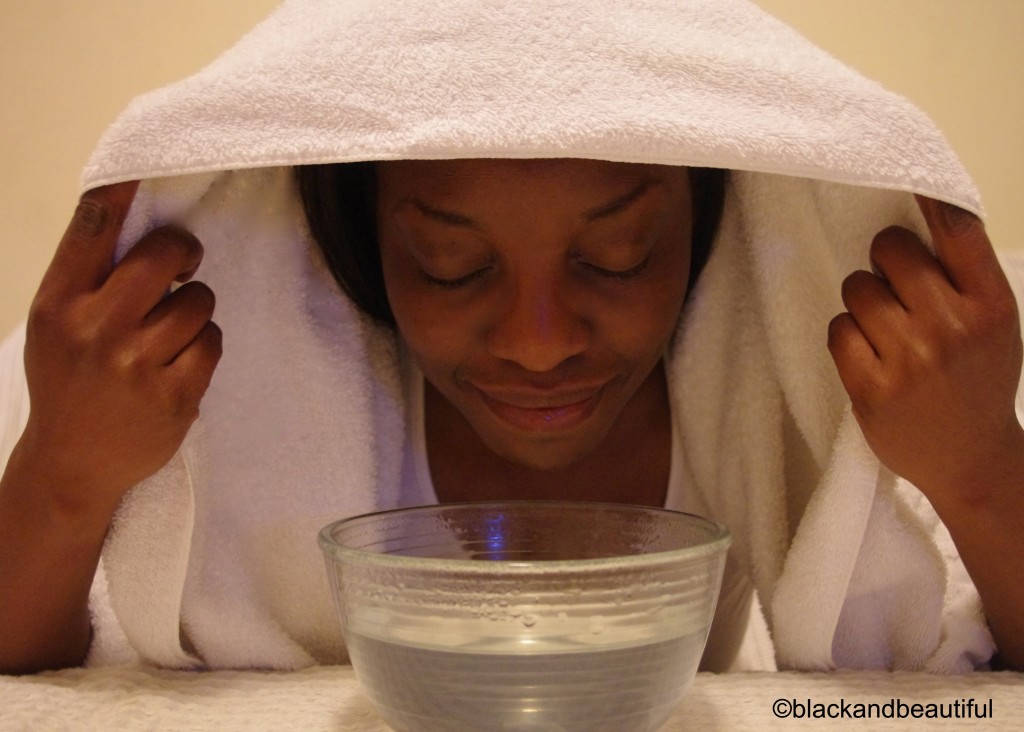 The facial steam is a natural and economical treatment that will cleanse your skin and restore radiance to your complexion.
The benefits of steaming your face
Under the effect of the steam, the skin releases its impurities. The pores open and get rid of toxins that have accumulated (pollution, nicotine or makeup residue ) .
How often to steam face?
The facial steam  is recommended once a month (once every two months for dry or sensitive skin). Stay away if you have rosacea as the heat dilates vessels.
Before the steam
If you have dry or sensitive skin, apply a moisturizer.
If you have oily skin , make a scrub.
How to steam your face?
Choose dried flowers according to your skin type :
Normal skin : thyme , chamomile , parsley, marjoram and lavender
Oily skin : sage , eucalyptus , rosemary , mint, tea, thyme, pine needles, bark or slices of orange or lemon
Dry skin : chamomile , lime , lavender, sage
You can also replace the dried flowers with essential oil according to your skin type or infusions:
Normal skin : rosewood , geranium, jasmine , lavender, neroli, patchouli
Oily skin : tea tree, rosewood , lemon, eucalyptus , geranium, patchouli , rosemary, ylang -ylang , grapefruit
Dry skin : rosewood , chamomile , cistus , jasmine , lavender, neroli, rose
Acne skin : tea tree, lemon
Mature skin : rosewood, patchouli , lemon, lavender
1- Add 2 tablespoons of dried flowers in a liter of water and boil plants or add 4 drops of essential oils in a liter of boiling water.
2 – Pour into a bowl.
3 – Lean your face over the bowl and cover your head with a towel . The heat must be nice .
Wait 10 to 15 minutes depending on your sensitivity ( sensitive skin , the more time will be shortened )
4- Gently dab your face with a clean towel. Now that the pores are dilated , you can remove blackheads by gently pressing with the tips of your fingers covered with a handkerchief.
5- Make a clay mask or a moisturizer if your skin is dry. The pores are open , your skin will absorb it perfectly. Leave on for 10 to 15 minutes.
6- Rinse with warm water, end with a jet to cool water.
7 – Apply your usual moisturizer.