Posts Tagged 'sun protection'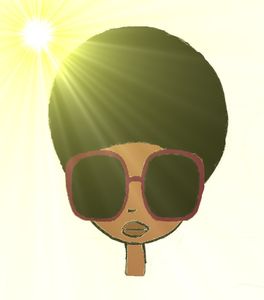 Black skins are more resilient to sun but  must be protected.
And yes, black women can also get sunburn.
The sun is not safe because it can cause hyperpigmentation of black skin.
What type of sunscreen should I use?
Choose a light cream with a minimum SPF20 protection.
For skin with spots, use a minimum SPF 30 protection.
Sunscreens should be avoided too thick that leave white marks on the face.
How often use sunscreen?
Apply sunscreen frequently, about every two hours, especially after sweating, swimming or toweling.
After peeling: wait at least three weeks before leaving on holiday or being exposed to strong sunlight and use a good sunscreen.
If you follow a treatment against acne, avoid exposure to sunlight.
FOR THE FACE
For oily and combination skin use a light cream or a fluid without fragrance or alcohol.
Hydrance optimale UV light SPF20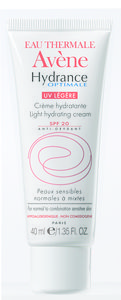 For normal and combination skins, this fluid leaves the skin light and matified, it both protects and moisturizes the skin against  UVB and UVA rays.
High protection cleanance solaire SPF30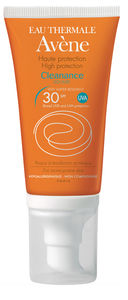 For blemish-prone skins, cleanance solaire has  Avène thermal spring water soothing and anti-irritant effects.
Water resistent, without paraben, hypoallergenic and non-comedogenic,it protects the skin against UVA  and UVB rays rays while matifying the skin.
Fluide Protecteur Face Kibio SPF 30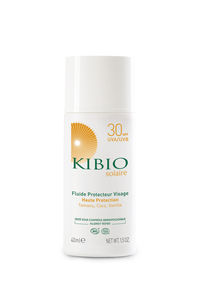 Water resistant, it protects the skin against UVA and UVB rays.
Lightly tinted, its formula neutralizes the "white skin" of mineral suncream.
Like all Kibio solar range, this fluid is made up by tamaru oil with regenerating and soothing effects which give a protection against the sun.
Couvrance compact foundation cream*SPF30
For sensitive dark skin, this cream,this cream correct severe flaws with a high camouflage power.Its texture leave the skin matte.
FOR THE BODY
Choose a light and moisturizing cream fragrance and alcohol free.
High protection cream Avène SPF30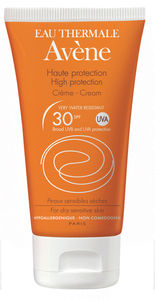 Water resistent, this cream protects and moisturizes sensitive and dry skins.
Fluide protecteur body SPF20 Kibio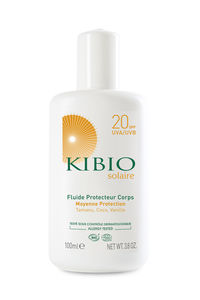 Protective fluid, not oily, to use after applying moisturizing cream.
AFTER SUN CARE
After sun repair care Avène
Hypoallergenic et non-comedogenic, this after sun moisturizes, calms heating sensations and restores sensitive skins after exposure to the sun.
Apply to the face and body after a day inthe sun or after the shower.
After sun soothing and moisturizing milky cream Kibio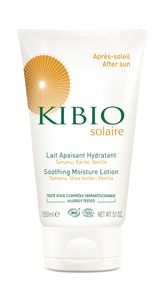 This milky cream sooth and moisturize face and body.
A HEAT WAVE?
Spray thermal spring water

Well known for its soothing and anti-irritant effects, this spray provide a sensation of relief, comfort and well-being under hot weather.
Ideal for face and body, you can also use it for scalp.
Trick: to fix makeup Apply powder on the face, then spray it. Dry your skin with a tissue and apply powder again.
Test results on the return of Miss BB sunny vacation.
*More explanation in next post.
Dear readers,
Prior to publishing articles on skin care tips and other cosmetics, It is useful to start with the basics: a study of black skin and its specificity in compaison to white skin.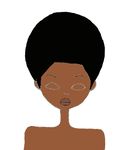 SMALL LESSON
Melanocytes are cells that produce the skin pigment called melanin, the melanin granules are more or less dark.
We all have the same number of melanocytes, whatever our color is, however, the number varies by body part. For example, it is low on the palms of the hands and feet (if someone asks you why the palm of your hand is clearer,ow n you know what to say).
The main role of melanin is protection against UV pigment, it also makes it tan or darken, when exposed to sunlight the body produces more melanin to better protect against UV rays.
BLACK SKIN: A HIGH CONCENTRATION OF MELANIN
In black skin, the melanocytes produce much more melanin so the more skin is dark over and the more its melanin concentration is high.
BLACK SKIN : A THICK SKIN
The black skin is thicker and stronger than Caucasian skin so its cell renewal thus is more frequent than Caucasian skin.
This thickness has two consequences:
-The black-skin heals poorly
-The black skin ages more slowly (a thin skin ages more easily)
A SHINNING SKIN
Black skin produces more sebum which protects it, allows it to be more flexible, but shines.
SKIN HAIR HIGH BLOOD
The black skin is rich in blood capillaries (small blood vessels), which promotes irritations and allergies.
BLACK SKIN: BETTER PROTECTION AGAINST THE SUN
The melanocytes in black skin produce melanin, a dark that more effectively protects the skin from the sun, the percentage of UV radiation that reaches the deep layers of the epidermis is less important (15% for black skin against 50% for light skin) .
Cancers of the skin due to sun are very rare in black skin.
Caution, this does not catch black skin from sunburn.
On the other hand, the sun causes pigmentation problems, the main problem facing the black skins.
When a white skin had a reaction, it displays often redness. For black and mestizo skins, then it is a task pigmentosa. Example: after a button acne, skin heals and mark a more intense staining. Or again: there is a drought area, the dead cells accumulate on the surface of the skin and can, again, be visible by staining stronger .
SKIN BLACK CAN EASILY BE STAINED
Melanin is distributed across all layers of the skin black, so a button, or cause scar darkening of the skin.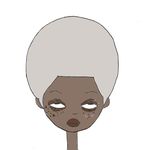 BLACK PEOPLE HAVE NO WRINKLES!
The black skin is thicker and better protected from the sun, it will wrinkle slightly or not at all!
However, black skin ages another way, in fact the number of melanocytes stop producing melanin, which does not distribute evenly on the skin.
Appear when problems of pigmentation, skin tone will not be the same color: dark circles darker black spots or white, dyed gray.
MY ADVICE
Although hydrate the skin, preferably with a cream containing sunscreen in winter and summer (to avoid problems of pigmentation).
In summer, put a UV index 20.
Cosmetic products for white skin are they appropriate black skin?
Yes, if they do not contain perfume or alcohol.
Avoid products containing alcohol or perfume because they cause allergies and a risk of photosensitivity.
Indeed, alcohol and perfume is exposed to UV through the skin, exposure causes chemical reactions driven can produce toxic or allergenic.