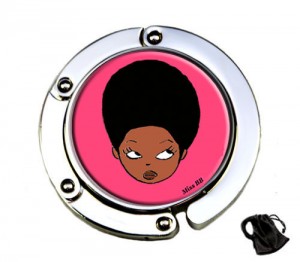 The bag hanger is the new fashion accessory.
It is is a convenient accessory that attaches to any table and keeps your bag in sight and by your side, no matter where you are. Affordable, portable and secure.
This handbag hook is a practical and elegant gift, an excellent great gift idea for christmas or birthdays.
Miss BB handbag holder allows your handbag to be neatly and securely attached to any flat surface, including desks, dining tables and work areas.
Don't risk ruining your favourite bag by dumping it on a dirty floor. Make sure your handbag is always in sight and safe from pickpockets. My Bag Hangers are a great way to protect your precious bag – and its contents – from accidental damage, theft and grime.
SHOP MISS BB'S BAG HANGER NOW!