Dear readers,
Prior to publishing articles on skin care tips and other cosmetics, It is useful to start with the basics: a study of black skin and its specificity in comparison to white skin.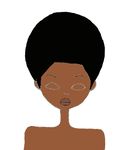 Melanocytes are cells that produce the skin pigment called melanin, the melanin granules are more or less dark.
We all have the same number of melanocytes, whatever our color is, however, the number varies by body part. For example, it is low on the palms of the hands and feet (if someone asks you why the palm of your hand is clearer, now you know what to say).
The main role of melanin is protection against UV pigment, it also makes it tan or darken, when exposed to sunlight the body produces more melanin to better protect against UV rays.
DARK SKIN: A HIGH CONCENTRATION OF MELANIN
In black skin, the melanocytes produce much more melanin so the more skin is dark over and the more its melanin concentration is high.
DARK SKIN IS THICK
The black skin is thicker and stronger than Caucasian skin so its cell renewal thus is more frequent than Caucasian skin.
This thickness has two consequences:
-The black-skin heals poorly
-The black skin ages more slowly (a thin skin ages more easily)
DARK SKIN IS SHINY
Black skin produces more sebum which protects it, allows it to be more flexible, but shines.
SKIN HAIR HIGH BLOOD
The black skin is rich in blood capillaries (small blood vessels), which promotes irritations and allergies.
DARK SKIN: BETTER PROTECTION AGAINST THE SUN
The melanocytes in black skin produce melanin, a dark that more effectively protects the skin from the sun, the percentage of UV radiation that reaches the deep layers of the epidermis is less important (15% for black skin against 50% for light skin) .
Cancers of the skin due to sun are very rare in black skin.
Caution, this does not catch black skin from sunburn.
On the other hand, the sun causes pigmentation problems, the main problem facing the black skins.
When a white skin had a reaction, it displays often redness. For black and mestizo skins, then it is a task pigmentosa. Example: after a button acne, skin heals and mark a more intense staining. Or again: there is a drought area, the dead cells accumulate on the surface of the skin and can, again, be visible by staining stronger .
DARK SKIN CAN EASILY BE STAINED
Melanin is distributed across all layers of the skin black, so a button, or cause scar darkening of the skin.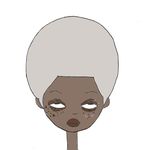 BLACK PEOPLE HAVE NO WRINKLES!
The black skin is thicker and better protected from the sun, it will wrinkle slightly or not at all!
However, black skin ages another way, in fact the number of melanocytes stop producing melanin, which does not distribute evenly on the skin.
Appear when problems of pigmentation, skin tone will not be the same color: dark circles darker black spots or white, dyed gray.
MY ADVICE
Although hydrate the skin, preferably with a cream containing sunscreen in winter and summer (to avoid problems of pigmentation).
In summer, use a sun screen protection with a minimu of SPF20.
Are cosmetic products for white skin appropriate black skin?
Yes, if they do not contain perfume or alcohol.
Avoid products containing alcohol or perfume because they cause allergies and a risk of photosensitivity.
Indeed, alcohol and perfume is exposed to UV through the skin, exposure causes chemical reactions driven can produce toxic or allergenic.