This post is also available in: French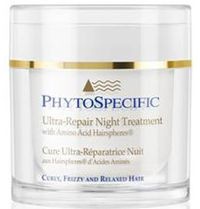 In the winter time, the use of a hair care is essential for fragile hair. The cure Ultra-Repair from  Phytospecific offers to repair damaged and brittle hair.
Applied every 2 days to dry hair before bedtime, it softens the hair significantly due to its non-oily soft and light texture. The next day, hair is softer, more flexible and easy to comb. It is perfectly possible and even recommended for use on the scalp of hair braided, after a good shampoo. Be sure to heat the cream in the palms before applying.
The perks of Miss BB:
Overnight cover the hair with a silk scarf.
Once a week, take the shampoo Cornerstones Phytospecific. Filled with natural ingredients, texture and smell are very pleasant.