This post is also available in: French
Winter is coming…. The lips skin is very sensitive during this period.
Cracking, irritation, dry skin, these are the evils suffered by our lips, especially the black skin.
What lip care for black skin use this winter?
Miss you BB has tracked down the best lip balms: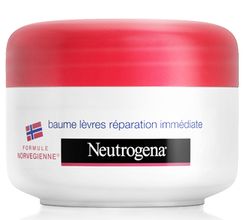 The Immediate Repair Lip Balm by Neutrogena is enriched with glycerin and emollients to relieve immediately, intensely hydrate and repair chapped lips.
The results are visible after the first application.
Absorbs quickly and leaves no sticky or white effect.
This balm is particularly effective on chapped lips, it nourishes and regenerates the skin quickly.
Miss BB is your guarantee that you will have no cracking if you apply it.
It is also comfortable to wear thanks to its discreet fragrance.However, its texture is too oily to apply lipstick on top.
Miss BB Tip: Apply this balm at night, at bedtime, wake up your lips will be smooth, soft and plumped.
Miss BB advises the chapped lips and extremely dry.
Have you ever used this lip balm? What do you think?