This post is also available in: French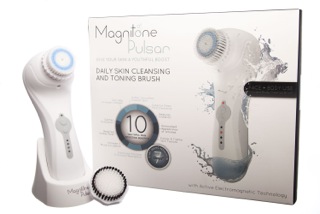 For a few weeks, I had the opportunity to try Magnitone Pulsar brush. Thanks to its electromagnetic technology, it deeply cleanse the skin, but it has much more benefits…
What is Magnitone Pulsar ?
It uses Active Electromagnetic Technology to effectively cleanse, refresh and stimulate your skin, helping to give it a wonderful , natural, youthful glow.
It is composed by three brushes:
– Active Clean Brush
For daily facial cleansing
Deep cleansing and gentle exfoliation
– Sensitive Brush
Softer bristles for gentle cleaning
For delicate or allergenic skin types
– Body Cleanse Brush
Strong bristles for exfoliation
Dry skin removal on legs and arms
Magnitone Pulsar uses an ultra-fast sweeping cleansing action which glides softly across the skin's surface hundreds of times per second,encouraging the trapped-in dirt residue and oily impurities to gently lift out of deep pores. Driven by Active Electromagnetic Technology,this mode provides enhanced pulsed stimulationfor the skin whilst it cleanses. Use it regularly tofeel an increase in the blood circulation to thoseareas that may need special attention. Enhancedblood circulation helps to provide skin cells withoxygen and their vital nutrients to promote skinmetabolism and natural collagen synthesis.
What are its benefits ?
– More effective deep cleansing and removal of impurities: Immediately after using it my skin felt cleaner than after a regular cleaning.
– Firmer, tighter skin texture: After a few weeks of use, I started to notice that my skin was firmer
– Can help diminish the appearance of fine lines and wrikles: well knowing that I have none of it I can't confirm
– Increase of blood circulation to the skin :  I have noticed a decrease of my dark circles and the dark stains made by my glasses proving that there is a better blood circulation in those areas.
– Helps reduce the appearance of visible pore : All the pore of my skin has disappeared.
This brush is absolutely amazing, my skin is smoother and absorbs more easily the facial cream.
For more information: Magnitone Pulsar


style="display:inline-block;width:300px;height:250px"
data-ad-client="ca-pub-0862547860872860″
data-ad-slot="7607876306″>