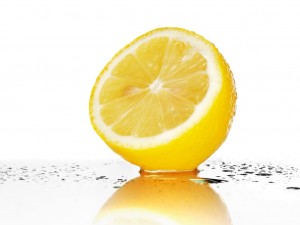 Over- secretion of melanin is known to cause dark spots.   Here are five homemade recipes with lemon to get rid of dark spots on the face. Those remedies take a while to work but in the end they are worth it :
Lemon contains citric acid which exfoliates the skin by peeling the dead cells like a soft peeling. It also helps even skin tone.
Recipe n°1
Squeeze out some juice out of a lemon and apply it directly on the dark spot by dipping a cotton ball in the lemon juice. Let it rest for about half an hour and rinse it off with cold water. Repeat this at least two times a day. It takes 2 months for you to see positive results.If you have a delicate or sensitive skin, you can dilute the lemon juice with plain water
Recipe n°2
Rub lemon and honey or sugar dissolved on the dark spots or use it as face mask.
Recipe n°3
Apply lemon juice, cucumber juice and rose water on affected areas.
Recipe n°4
Mix lemon juice and turmeric. Apply the paste on face.
Recipe n°5
Mix lemon juice with tomato juice and apply once a day on the dark spots.