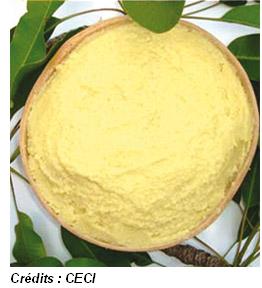 Shea butter comes from the Shea tree in West and Central Africa. It has been used for thousands of years by African women because it has many benefits.
How African women use shea butter?
African women use shea butter for body care. From the birth of their child, they daily coat the body of their babies with shea butter to prevent or cure irritation.
The benefits of shea butter on the skin
Shea Butter against wrinkles
Shea butter is an excellent natural anti-wrinkle as it effectively improves tissue regeneration and stimulates cell metabolism. Regular use helps to fight against degenerative diseases of the skin caused by aging and sun. It contains rich phytosterols that gives a real power to restore cells.
Shea butter against dry skin
Shea butter has powerful regenerative and restorative properties of the skin with vitamins A, D, E and F in it which also helps soften and regenerate dry skin. By covering the skin with an invisible film, Shea butter avoids his dehydration and protects against the sun, the wind or sudden changes in temperature.
Shea Butter for lips
Shea Butter helps protect lips against the harmful effects of cold. It also allows to shine lips.
Apply shea butter on the lips in the morning before leaving. It will form a protective film on the skin of your lips and you will be protected for the day.
Shea butter against psoriasis and eczema
Shea butter has properties that soothe and heal various irritations such as superficial itching, eczema, psoriasis, chapped skin, burns.
Shea butter against stretch marks
Shea butter has anti-elastase properties, so it is the best place for pregnant women. This butter prevents stretch marks and effectively fight the whole body, it also improves the firmness of the bust.
Use before and after pregnancy, it improves the firmness of the body, gives flexibility to the skin and thus fight against stretch marks. Apply shea butter on your stomach every night light massage.
For existing stretch marks, healing properties of shea butter will help them decrease.
The shea butter after – shave
After shaving, the skin can become red, irritated and be subject to brownouts. The final result is the dehydration of the skin. Shea butter protects the skin after shaving.
For this, let penetrate shea butter 5 minutes then remove the residue with a towel so that your skin is not oily.
The benefits of shea butter for hair
Shea butter is good on brittle, dry, damaged and rebels hair, nourishing, softening, protecting, deep conditioning hair and scalp. It brings flexibility and strength to hair. Shea butter protects hair from sun damage and has a protective and regenerative effect, restructuring the hair structure, providing softness, shine and volume.
To get the best results, it is advisable to coat the hair the night before shampoo massaging spikes with a knob of butter. Then wrap your hair in a shower cap. Keratin hair will have time to absorb everything it needs.