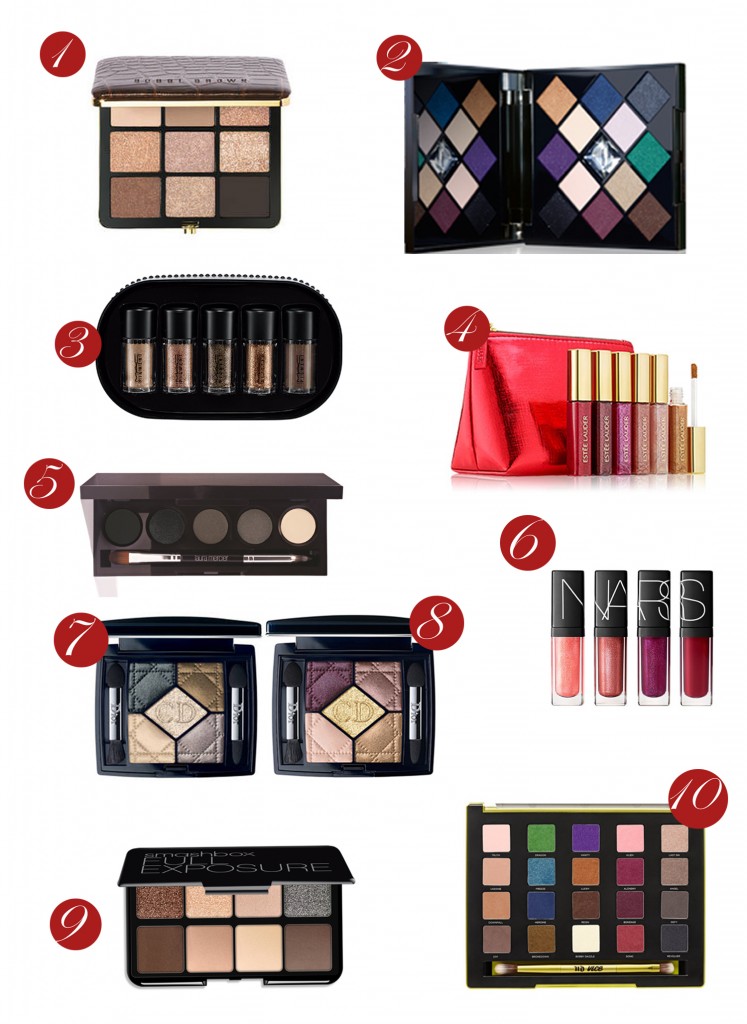 The festive season is a great time to invest in some glamorous new cosmetics for day through to evening as make up companies offer an array of  colours in fabulous packaging. Here is my selection that will allow you to create an every day and an evening look.
 1. Warm Glow Eye Palette, Bobbi Brown
9 eye shadows with warm colors for a natural finish or a more intense effect. Price: $75 Bobbi Brown 
2. Palette On The Rocks, Smashbox
With 12 shades inspired gemstone shades and neutrals glamorous Studios, this palette in limited edition promises glittering celebrations makeups. Price $18 Smashbox 
3. Object of affection pigment flake gold and beige, Mac
A box of pigments and glitter with 5 shades from beige to dark brown through golden. Elegant and vibrant colors.
Note, this box is out of stock on the Mac Cosmetitcs website but is available in some online stores. Price: $21
4. Christmas Gift Pure Color, Estee Lauder
This compact offers 6 mini lip gloss colours with a light texture and ultra moisturizing. This box promises a sensual look and moderne.Prix £34 Estee Lauder 
5. Palette Smoky Eye Colour Suede, Laura Mercier
This palette consists of 6 eyelid shadows that gives a perfect smoky eye for an evening look. Price: $ 55 Laura Mercier 
6. Coffret Lip Gloss Tech Fashion, Nars
4 lip gloss miniature limited edition for an ultra glamorous effect. Price $39 Nars Cosmetics
7 & 8. Golden Palette Shock 5 colors, Dior
2 pallets of eye shawods in limited edition, each containing 5 shades for several effects: matte, satin, iridescent or ultra-glittery.
Price: € 53.50 Dior
9. Palette Full Exposure Taille voyage, Smashbox
8 shades from nude iridescent tones to create a daytime or an evening look or evening at a bargain.
Price: $22 Smashbox 
10. Palette Vice 3, Urban decay
This palette contains a double-ended applicator, a mirror a small carrying pouch, and 20 eyeshadows with colorful shades and nude to use on all occasions.
Price $60 Urban Decay