Black Natural Hair is a Movement and helps support black owned businesses.
How is Black consciousness and hair intertwined? It has a lot to do with the women who previously sported natural hair in the US. The most renowned natural haired women were Assata Shakur a former Black Panther and alleged terrorist, and Angela Davis a political activist.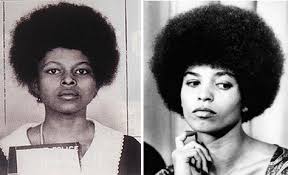 These women were seen as rebels not only for their political antics, but also as a result of the boldness of their hair. Fast forward to 2015 and natural haired women in the U.S have inherited the rebellious title, majority with pride, and some kicking and screaming about another label forced upon them by "the man". Arbitrary labels aside the natural haired movement in the U.S has not only given way to Black consciousness but the Buy Black movement. Many Naturalistas in the states are not only concerned about the ingredients going into our products, we want to know who makes them as well.
According to Ebony.com the Black hair care market in the United States is at least a $684m industry. Disturbingly, Koreans own close to 60% of the market. Of the 9800 beauty supply stores in the U.S, only 300 are owned by Blacks. In the UK, beauty supply stores are owned by Pakistanis.
Why is it disturbing that Koreans own majority of the Black hair market in the U.S you ask? Well to put it simply, money generated by Black owned businesses tend to go back to the Black community. If we shop at a Korean owned beauty supply store, the money generated from that store will likely be spent in the Korean community. Now allow us to say this upfront, this article is no disrespect to Koreans dominating the Black hair market; they saw an opportunity and seized it, as would any other savvy businessperson. Nonetheless, if Blacks in the U.S want to effect change in our communities by improving failing schools, reducing crime and providing jobs, then we need to practice group economics just like the Koreans.
According to Ultra Distributors, major natural hair brands have seen a revenue increase of over 140% between 2009 and 2013, corresponding to an estimated $150m in revenue. Sistas are birthing natural hair care brands right from their very kitchen and getting their babies in major retailers like Target and Whole Foods.
The cause of systemic racism is purely economic, which started with slavery and colonialism, so this problem needs an economic solution.
When you buy, you give your economic power to someone else. Black communities contribute a lot to the economy but often don't get the opportunity to reap the benefits, Black businesses can help to invest some of that money back into the community!
By supporting black businesses, you use your economic power to transfer it into the black community.
In the UK, the black live matter movement leaded to Back Pound Day, is a solution-based approach set up to support the growth of the UK black economy.

Starting with one day per month, Black Pound Day encourages everyone to only spend money with local and online UK black-owned businesses.
The day is also an opportunity to find out how everyone can support black businesses over the long-term.
If we all spend just £10 per week with the black businesses, it will generate £1.9 billion for the black economy in the UK. That means employment opportunities and even more business opportunities, which in turn means wealth-building, which then begins to give us the political and social power to change things for our community. It's all linked, and it should be a priority for anyone who cares about black empowerment. Here are some reasons why:
– Black and minority ethnic people are  worth some £300 billion to the UK economy, yet we spend only a fraction of that money with businesses owned by Black people
– Black businesses have a harder time obtaining loans and credit meaning many of us have to bootstrap our businesses, and that limits our ability to develop and grow
– the majority of Black businesses are small and so are disproportionately affected by social media algorithms that tend to favor larger businesses; this limits our visibility and ability to increase our customer base.
It's estimated that if we spent just £10 per week with Black-owned businesses it would add £1.9 BILLION annually to their bottom line, which would certainly help address the issues above. This, in turn, would help local economies in terms of jobs and commerce as smaller businesses tend to employ locally and buy supplies locally.
How you can help:
1) Connect with Black-owned businesses. Ask around. Take notice locally. Visit Black online marketplaces, follow black pound day Instagram page and black owned economics Facebook group
2) Buy our products at Doria Adoukè .
3) Spread the word: tell your friends; recommend; share online.
4) Pledge to spend a proportion of your income with Black businesses each week. It doesn't matter how small, it all makes a difference.